09 Jan

Che Sahora Ahmat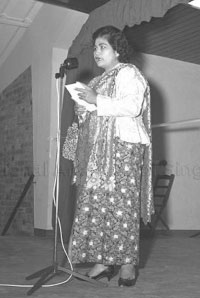 SPH Copyright
Madam Sahora was known as the Assembly woman whom had to be ferried from the hospital in an ambulance to cast the decisive vote for the Government in 1961. With her vote, the Government survived a no-confidence vote by a majority of one.
She represented Siglap after winning a seat for the PAP in the 1959 Legislative Assembly general elections. One of the candidates she defeated was Mohd Sidek Bin Abdul Hamid, a former Minister of State for Education in the previous government. It was a significant election because finally under the new Constitution of Singapore, all women who were Singapore citizens could vote. Five women were elected to the Legislative Assembly, including Madam Sahora as the only Muslim woman.
She was one of the Government backbenchers assigned to act as a liaison officer between the Minister and the public. She was a member of the PAP's bureau in charge of women's affairs.
In 1960, she proposed a bill to address the common issue of maintenance payment to divorced Muslim wives. Subsequently, government amended the Muslim Ordinance, giving power to the Shariah Court to order husbands to provide their wives with maintenance upon divorce. Her work on the legislative assembly led to the 1961 Women's Charter.
Source:
Our Lives to Live: Putting a Woman's Face Change in Singapore, edited by Kanwaljit Soin and Margaret Thomas
http://eresources.nlb.gov.sg/newspapers/Digitised/Article/straitstimes19611219-1.2.6.aspx?q=sahora+ahmat&page=1&sort=relevance&token=ahmat%2csahora&sessionid=1fb61384c9f64760a9e7476e1333022f
http://eresources.nlb.gov.sg/newspapers/Digitised/Article/straitstimes19590624-1.2.65.aspx?q=sahora+ahmat&page=1&sort=relevance&token=ahmat%2csahora&sessionid=1fb61384c9f64760a9e7476e1333022f
http://eresources.nlb.gov.sg/newspapers/Digitised/Article/straitstimes19620210-1.2.19.aspx?q=sahora+ahmat&page=1&sort=relevance&token=ahmat%2csahora&sessionid=1fb61384c9f64760a9e7476e1333022f
http://eresources.nlb.gov.sg/newspapers/Digitised/Article/today20090418-1.2.25.4.aspx?q=sahora+ahmat&page=1&sort=relevance&token=ahmat%2csahora&sessionid=1fb61384c9f64760a9e7476e1333022f
http://eresources.nlb.gov.sg/newspapers/Digitised/Article/straitstimes19610510-1.2.148.aspx?q=sahora+ahmat&page=1&sort=relevance&token=ahmat%2csahora&sessionid=1fb61384c9f64760a9e7476e1333022f
http://www.oocities.org/soho/9811/timeline.html
http://www.fivestarsandamoon.com/1963-merger-and-operation-cold-store/
http://yoursdp.org/publ/perspectives/if_they_were_alive_today/2-1-0-220