09 Jan

Hajah Fatimah Chik Abdul Karim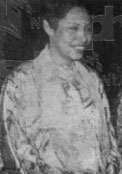 SPH Copyright
Hajah Fatimah Chik was a former president of Persatuan Pemudi Islam Singapura(PPIS) for several years. In 1950, she went to Britain for higher studies on Education Department scholarship. In 1952, with a group of 22 like-minded women, she set up PPIS, an organisation dedicated to champion the rights of Muslim Women and their children.In the spirit of volunteerism and working together, Fatimah Chik offered her residence at no. 29 Lorong 31 Geylang Road to be used as meeting places for PPIS members. It was a humble beginning; meetings were usually held during the weekends where the twenty-two of them sitting on the floor.
Together with Lady Noor Aishah, the First Lady and wife of Singapore's first President, Mr. Yusof Ishak, she was active in the fundraising for development of PPIS' headquarters building. The foundation stone of the clubhouse and headquarters of PPIS at 15, Haigsville Drive was finally laid on 4 August 1967. The headquarters was later relocated to Eunos Crescent.
In 1963, she went to United States on a Fullbright Scholarship to study vocational education in the International Teachers Development Program. She was formerly an inspector of Malay schools and was active in Malay organisations during the sixties.
She died on 6 June 1983, aged 65.
Source:
Lighting lives: the PPIS story, by Mohd. Ali Mahmood, Saat A. Rahman, Nuraisyah Mohamed Rashit, PPIS.
http://web.ppis.sg/category/about-us/history/
http://eresources.nlb.gov.sg/newspapers/digitised/article/straitstimes19830607-1.2.23.aspx
http://eresources.nlb.gov.sg/newspapers/Digitised/Article/straitstimes19510825.2.117.aspx
http://eresources.nlb.gov.sg/printheritage/image.aspx?id=2482baae-9a3b-4e03-9f4e-18092307b308
The Miami News, 22 January 1963
https://www.google.com.sg/url?sa=t&rct=j&q=&esrc=s&source=web&cd=5&cad=rja&uact=8&ved=0CC4QFjAEahUKEwi4ovLguPbIAhXBKJQKHbBEDaE&url=http%3A%2F%2Fnews.google.com%2Fnewspapers%3Fnid%3D2206%26dat%3D19630122%26id%3DBbgyAAAAIBAJ%26sjid%3DSeoFAAAAIBAJ%26pg%3D2054%2C2388693&usg=AFQjCNGnW70IR3eHU_zTC5Khb7TK9zC9_g&sig2=aHYdANnqWTi72c-204UMCw&bvm=bv.106379543,d.dGo