09 Jan

Hajah Halijah Abdul Hamid Almunawarrah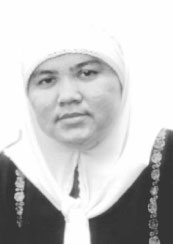 Hajah Halijah was born in 1958, the third of four children. Her father, Haji Abdul Hamid Jandad was a policeman and her mother, Hajah Petom Omar was a Malay language teacher in a primary school. She went to Tanjong Katong Girl's School and continued to pre-university at St Patrick School. She received her Islamic studies education from Kampong Siglap Mosque.
Initially she worked as an immigration officer at Paya Lebar Airport, before moving on to Singapore Airport Terminal Services (SATS). Thenshe became a volunteer for a well-known Hajj Sheikh or pilgrimage representative, Ustaz Taha Suhaimi.
In 1975, she was diagnosed with leukaemia and was given a year to live by the doctor. But she defeated the doctor's prediction and went on her first pilgrimage in 1979 with her aunt. She was only 21 years old at that time. She had a first-hand experience of helping her fellow pilgrims who faced challenges during Hajj which made her more determined to help the pilgrims after going back to Singapore.
She started out as a freelance hajj sheikh before it evolved into Shahidah Muslim Services, a Singapore company which handles pilgrimages to Mecca, among other things. She was the youngest woman hajj sheikh at that time.In 1981, she decided to quit her job to focus on handling pilgrimage.
She introduced some improvements and innovations to address the challenges faced by pilgrims based on what she saw in Mecca. She brought cooks from Singapore so that the pilgrims did not have todivide their time to prepare food and thus couldfocus more on the worship and other rituals. She used color-coded uniforms to assist elderly pilgrims who were illiterate to help them find their own travel groups. She brought more volunteers on the journey to guide the pilgrims especially the elderly. Shestarted to organise practical preparatory lessons to supplement the theoretical classes to better prepare them for the hajj, a journey of a lifetime for many pilgrims.She was also the early adopter of computerisation to help the operation of travel services.
When, the Islamic Religious Council of Singapore (Majlis Ugama Islam Singapura, MUIS) came up with new regulations to safeguard the interests of the pilgrims, that required hajj representative to have travel agent licence, she set up her own travel agent company, Halijah Travel in 1991 with herpersonal savings. She managed to break even in her first year. By 1995, the company's turnover was $6 million. In just four years, she led her company to become one of the few highest grossing Malay travel agencies in Singapore, despite facing stiff competition.
From her office in Golden Landmark building in Victory Street, she managed eight full-time staff and 70 volunteers. The volunteers were friends whom she knew well.Her company also diversified to providing holiday packages to traditional places like Indonesia, Malaysia, Egypt and Turkey. She attributed her success to going the extra mile for her customers. She provided more personalised service, for example by sending more volunteers than required by MUIS to serve the pilgrims. Her motto was to serve with sincerity.
She was also known for her charity work. She made helping the needy a part of her work, perhaps because her clients came from all walks of life, including the elderly and the disabled. She made an annual fundraising trip to commemorate the birth of Prophet Muhammad and donated the fund for charitable organisations in Batam and Tanjung Pinang, Indonesia.
She refused to dwell on her leukaemia. Focusing on business and leaving things to God has helped her beat the disease for a while. She consistently worked hard despite her illness. Having a chance to live made her thankful and appreciates every single day of her life.
In 1996, she was struck by another cancer. In 1997, aged 38, she died after losing her battle againsther illness.
Source:
Interview with Mr Haffidz Abdul Hamid, Hajah Halijah's brother and General Manager of Halijah Travel.
The Straits Times, 20 March 1996
The Straits Times, 14 February 1997
The New Paper, 21 February 1997
Berita Harian, 24 July 1998
Berita Harian, 17 April 1987
Berita Harian, 17 October 1986
Berita Harian, 17 August 1986
Berita Harian, 15 March 1987
Menjelang Haji '97, Halijah Travel Publication