09 Jan

Hajah Saerah Taris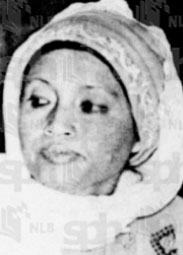 SPH Copyright
Hajah Saerah was born on 20 February 1936 in Pulau Blakang Mati (Sentosa), the fourth of eight children.Her father, Taris Bin Yassin migrated to Singapore from Karong Bolong, Banyumas, Indonesia. Her mother, Rogayah Binti Kamari was from Pulau Brani with a mix of Javanese and Malay parentage. The children, including Saerah, were raised with strong Islamic principles and practices by their father.
During the Japanese occupation in 1943, she studied at Malay School Telok Saga. In 1953, she continued her study in Malay Women's Training College in Malacca to become a teacher. After returning to Singapore, she taught in several schools.
When she was teaching at Monk's Hill Secondary School, where she served for 20 years, she was appreciated by the Parents Support Group as a committed teacher whose students achieved good results in 'O' level examination. She was selected by the Ministry of Education as the only Malay teacher in the Singapore delegate of fourteen teachers to visit Japan for a study trip. As a Discipline Mistress, she was known as a sincere motherly figure who counselled her studentslike her own children and advised them as a friend who cared.
While teaching, she beganto be particularly concerned about social problems faced by youths such as drugs addiction and teenage pregnancy. Her passion to help these youths led to her active involvement in Malay and national welfare organisations. She was the vice-president of the Central Council of Malay Cultural Organisations(Majlis Pusat) in 1980-1987 and vice-chairman of committee of welfare for the elderly ofthe Islamic Religious Council of Singapore (Majlis Ugama Islam Singapore, MUIS). She was also vice-president of the Singapore Malay Teachers Union (Kesatuan Guru-guru Melayu Singapore, KGMS) in 1978-1980 andPresident of Persatuan Pemudi Islam Singapura (PPIS)in1975. She was involved in the Development Committee of several mosques such as Darussalam Mosque in 1979-1987 and Al-Mutaqin Mosquein 1985-1987. She was a committee member of the Family Planning Board, Group Leader of Malay Aftercare (Counselling) Services of the Singapore Anti-Narcotic Associations and member of the women's working committee of National Trades Union Congress(NTUC). For all her contribution, she was awarded the Public Service Star in August 1982.
In serving the community, she also faced challenges and animosity. She noted on her journal that one of the painful moments was in 1980 when she decided to resign from her position as the Vice President of KGMS due to false allegation made against her. In 1978, she received threats from anonymous phone calls that led her to resign from the Board Committee of one of the mosques. Regardless of these hardships, she persevered in her dedication with honesty and sincerity without expecting anything in return.
She believed that a community leader should be ready to sacrifice time, energy and money. One must be patience and brave in facing challenges. She also said that a leader should have an open mind, encourage more people to join the cause while reflecting modesty in attitude.
Her husband, Haji Suratman Markasanshared the same passion for social activism. He was one of Singapore's Malay-language literary pioneers and a prolific writer. They supported each other and often discussed about how they could contribute tosolve issues in the community, which led to their service as advisors for anti-narcotics campaign.Their work together had inspired many of his fiction pieces (prose/poems). Suratman had made it his mission to raise awareness of drugs addition in youths and its prevention through his writings. He believed that a writer should be the 'eyes' and the 'ears' of the community, especially the less privileged.
She died in a tragic accident in June 1987, aged 51.She left behind two daughters and a son. She did not live to see her vision of having the Home for Muslim Elderly initiated by the Majlis Pusat being realised. It was her life-long mission to see the end of high rates of drug addiction, teenage pregnancy and abortion among the Muslim community in Singapore.
She wrote in her journal:
"The men have a responsibility to support and encourage so that the women can work together in community work. As for the women who are already in this work, she should use the opportunity the best she can with honesty and sincerity, without sacrificing her duty as a good mother and wife. Know that she should not expect anything from others for her sacrifices because it will only lead to great disappointment. As awoman, she cannot fulfil her mission to serve the community without full support from her husband, children, and extended family. Only when she has the common understanding with all of them, she will gain blessings for what she does."
Source:
Interview with Haji Suratman Markasan.
http://eresources.nlb.gov.sg/newspapers/Digitised/Article/beritaharian19880507-1.2.26.16.2.aspx
http://eresources.nlb.gov.sg/newspapers/Digitised/Article/straitstimes19870622.2.26.12.aspx
http://beritaharian.sg/gah/sastera/kehilangan-cetus-pencarian
http://eresources.nlb.gov.sg/newspapers/digitised/article/beritaharian19890304-1.2.16.6.aspx