09 Jan

Hajar Ali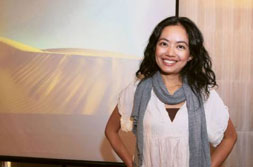 Hajar did strategic studies at the Institute of Defense and Strategic Studies (now Rajaratnam Institute of International Studies). The frustration that she had felt being a real estate agent was what led her to start a travel company. Her real estate transactions were predicated on the available inventory. This posed a problem as she worked solely with 'designer' real estate- well-designed apartments and houses or conservation property. There were many times when clients with a legitimate budget would not be able to find anything as there was simply nothing on the market at the moment.
She was inspired to set up Urbane Nomads while on a trip to Argentinian Patagonia. She founded the company in 2008, specialising in luxury travel to remote, off-the-beaten-trek places such as Antarctica and Tanzania.
She was researching the Empty Quarter for clients' trips and came across the history of expeditions in the Empty Quarter. She found the rich, interesting history behind the race to do a complete crossing of the Empty Quarter intriguing.Then she realized that no woman had managed to complete a crossing. It spans 650,000 sq km –the combined size of France, Belgium and the Netherlands – consists of stretches of few hundred-metre-high sand dunes, and cracked salt flats with quicksand. As its name suggests, the area is almost devoid of human settlement because of its extreme heat and scarce rain.It did not deter her as she was no stranger to adventure. She had gone eagle-hunting in Mongolia and on an overland journey to Northern Pakistan.
She took six months to plan the trip, during which she contacted Dr Wynn, who provided her with logistical advice. According to Dr Jeff Wynn, a research geophysicist from the United States Geological Survey who went on three scientific expeditions across the Empty Quarter in the mid-1990s, Hajar's expedition was the first crossing by a woman. Dr Wynn says an expedition across the Empty Quarter is "harsh and dangerous" and it is in fact logistically easier to cross Antarctica than the desert.Even after six months of planning, nothing quite prepared her for the challenges she faced.
She had to travel 1,400 km, across the desert, which spans the United Arab Emirates, Oman, Yemen and Saudi Arabia. Her team started from Al Ain in Abu Dhabi in the northern part of the Empty Quarter on March 22, 2012. Then they travelled south to Salalah in Oman, with a stop at Umm As Samim, a region of salt flats on the eastern edge notorious for quicksand. Two Bedouin drivers accompanied her, each handling a four-wheel-drive vehicle full with supplies. Even though the drivers were guided by four Global Positioning System devices, they actually had no experience at all in crossing the Empty Quarter before.
Reliving the journey, she said,
"It was very exciting. At first, it was just about being the first woman to cross the Empty Quarter, but that lost its significance during the trip because I was just living in the moment. My worst experience was encountering sandstorms on the last three nights, as if someone dumping buckets of sand over her tent. On the last night, it got so bad that I couldn't look up or open my mouth because the sand would enter my eyes and mouth. I felt a sense of achievement that I could relive the old-style desert exploration that was once in vogue in the 1920s and 1930s, with a modern-day sensibility.  It feels good to be tied to that history once it's ended but during the expedition itself, it was amazing to be in a territory that has captured the imagination of such great men and women."
On 28th March 2012, she finally completed the expedition. She was 30 years old at that time.
Sources:
http://www.asianewsnet.net/news-29460.html
https://about.me/hajar.ali
https://sg.linkedin.com/pub/hajar-ali/a/621/832