09 Jan

Hamidah Ismail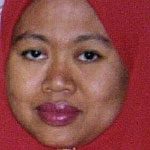 Hamidah was a 44-year-old nurse at Tan Tock Seng Hospital when she was stricken by Sars. She was one of the first nurses warded for the serious illness. She had been infected while caring for a patient and was first admitted to Tan Tock Seng on 12 March 2003. On 17 March, she was transferred to the intensive care unit.
Due to the seriousness of the illness, she was not allowed visitors even from her own family. When shefinally saw her three children via video link-up, she was too ill to talk. She tried her best to send her message of love. She had scrawled in a white board: "Dear son, Mami missed you and love all of you. I will be back soon". With tubes running down her throat and nose, she could only blow loving kisses at her family.
On 11 May 2003, after long battle with the virus for two months, she succumbed and passed away on Mother's Day. "She was an exemplary staff, an excellent leader and a caring nurse. Her strength, fighting spirit and positive outlook will always be admired and remembered," said Dr Lim Suet Wun, CEO of Tan Tock Seng Hospital.
Source:
http://eresources.nlb.gov.sg/newspapers/Digitised/Article/today20030512-2.2.5.3.aspx
http://www.straitstimes.com/singapore/sars-in-singapore-timeline