09 Jan

Madam Guldjan Bte Dhagoo alias Mak Minah Palembang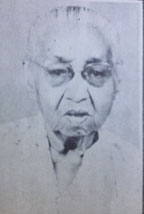 Madam Guldjan was the benefactor of Aminah Mosque at Sims Avenue in Geylang. She was originally from India and then moved to Palembang, Indonesia with her merchant husband, Mohamed Kassim. From their marriage, she gave birth to six daughters and two sons. When her eldest daughter, Zainab married a gentleman from Singapore and moved abroad with him, Madam Guldjan and her entire family moved together with her daughter's new family.
In Singapore, she was called Mak Minah Palembang as it was difficult for the people to pronounce her original name. The family ran a trading business and from the proceeds the family gradually purchased some land along Geylang area. She eventually built a rental house on her land at Jalan Labu, Geylang. The house was often rented out to travellers from around the region who visited Singapore.
In 1959, the rental house was intended for sale so that the family can fund Mak Minah's pilgrimage to Mecca. But after further discussion with her family, she decided to donate the house to make a surau instead.
A year later on 21 January 1960, the house was officially opened asa surau, serving the Muslim community in the area. It was named Surau Aminahafter Mak Minah and was managed by her son, Haji Mohamed Noor bin Mohamed Kassim as the mosque chairman.
The surau was lated expanded into a mosque due to growing number of congregants especially during Friday prayers and Eid. On 21 February 1964, the surau was officially transformed into Aminah Mosque. The ceremony was graced by the late President, Yusok Ishak. A madrasah was started in the mosque to serve the need of religious education for the children in the area and it was named Madrasah Aminah.
Mak Minah's generosity and selflessness led her to delay her own pilgrimage journey to make way for the development of the mosque for the community. After eight years of waiting, she finally went on her pilgrimagein 1967. She passed away on 29 November 1968.
The mosque had to be demolished in 1987 to make way for the widening of Sims Avenue to Jalan Eunos. Darul Aman Mosque was built at Jalan Eunos to replace the demolished mosque. Madrasah Aminah continued to become a part of the new mosque.
Source:
Interview with Habibah bte Mohamed Noor, Madam Guldjan's granddaughter; Mohd Ghazali bin Mohamed Noor, grandson; and Mohamed Ariffin bin Mohamed Noor, great grandson.
Interview with Md Ali Suri, Chairman of Darul Aman Mosque and ex-volunteer of Aminah Mosque.
New generation mosques and their activities: bringing back the golden era of Islam in Singapore, page 19
http://eresources.nlb.gov.sg/printheritage/image.aspx?id=9b192a05-8eef-4cca-b6d5-00724da2cfb5
Singapore changing landscapes : Geylang, Chinatown, Serangoon : based on the SBC TV documentaries
http://eresources.nlb.gov.sg/printheritage/image.aspx?id=5f43e962-19a1-48a9-96fb-91a1927ac2f1