09 Jan

Manijeh Namazie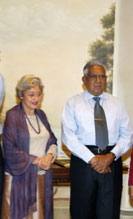 Miss Manijeh Namazie was born in Madras in 1930, the eldest of 6 children. She came to Singapore when she was five months old, but finishing her schooling in India during the Second World War period.She was the daughter of Mr. Mohamed Javad Namazie, a prominent Persian lawyer and Unofficial Member of the Singapore Legislative Council (1947-1951) and the Executive Council (1952-1954). He was the chairman of the Muslim Trust Fund which runs the Muslim orphanages. He was also the chairman of Moulana Mohamed Ali Mosque and was instrumental in negotiating the relocation of the mosque in the basement of UOB Plaza in Raffles Place. Her mother, Mrs M. J. Namazie nee Shams-Un-Nissa Namazie was a founding member of Persatuan Pemudi Islam Singapura (PPIS) and a former Local Association President for Central of the Singapore Girl Guides Association. Her brother, Mr. Mirza Mohamed Namazie, was a Managing Partner of the law firm, Mallal and Namazie.
She graduated from the Raffles College/University of Malaya with a B.A. in English, Economics and History. She obtained her second B. A. (Honours) in Classical Persian and Arabic at the University of London.In 1956, she joined the university library to work with the Arabic collection. Then she received her third degree from the University of California at Berkeley in 1961.
In 1963, the Malaysia Collection, now known as the Singapore Malaysia Collection was started by her. In 1983, she became the Deputy Librarian until retirement in 1993.
She spoke four languages (English, Urdu, Malay and her native Persian) and a handful of two others (French and Arabic).
She was a one-library librarian as she stayed with the university library for 34 years throughout its transformation from the University of Malaya in Singapore Library to the University of Singapore Library to NUS Library. She became a member of the Library Association of Singapore (LAS) in 1956. She had been a council member, secretary and vice-president of LAS.
In 2008, she was one of the three recipients of the inaugural Library Association of Singapore Professional Service Award presented at Istana by President S R Nathan.
She found satisfaction in seeing the Singapore Malaysia Collection, that she started, grow; andhelping library users to locate information they couldn't find. She emphasized on professional attitude by thinking independently and speaking one's own point of view.
She believed in giving women a voice in politic and education. She was an advocate for women's voice and representations in the Islamic Religious Council of Singapore (Majlis Ugama Islam Singapura, MUIS). She joined PPIS as committee member because she felt it was a good platform to give voice to women. She was always present in the AGM of PPIS to question anything that she did not feel right. She was a lady who stood by her principles andalways made sure that whatever being done was the right thing to do.
In 2014, Minister in Charge of Muslim Affairs Dr Yaacob Ibrahim held up the work done by Miss Namazie as the role model for the young as she was one of the "passionate, driven individuals whose successes have helped Singapore grow as one nation."
She passed away in 2015.
Source:
Singapore Libraries Bulletin Vol 1 no. 3, 1993.
Interview with Madam Fatimah Azimullah (PPIS) and Mr Tim Yap Fuan (NUS Library) with assistance from Mr Iftikhar Hayat (NUS Library).
http://www.aardvarknet.info/access/number65/monthnews.cfm?monthnews=05
http://eresources.nlb.gov.sg/printheritage/image.aspx?id=de37ec73-4bf4-4cc2-9b34-32accd19086f
http://www.nas.gov.sg/archivesonline/photographs/record-details/ffa2aeb4-7ea5-11e4-859c-0050568939ad
http://www.nas.gov.sg/archivesonline/photographs/record-details/af3fc30f-1161-11e3-83d5-0050568939ad
http://news.asiaone.com/news/singapore/pioneer-malaymuslim-leaders-be-honoured