09 Jan

Rasiah Halil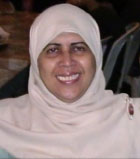 Rasiah Halil is a Singaporean poet, writer, translator, educator and trainer born in 1956. She attended the International Writing Programme at the University of Iowa, USA, on a Fulbright scholarship in 1995. She taught Malay language and literature at St. Andrew's Junior College (July 1985-February 1987), lectured on Malay-Indonesian literature (modern and classical) and Malay language at the University of Brunei Darussalam (March 1987-April 1990), the National University of Singapore (July 1990-July 1991) and the National Institute of Education (Dec. 1991-August 1995- on a part-time and later, full-time basis).
Her works have been published since March 1972 in Singapore, Malaysia and Brunei such as Perbualan: Buku Catatan Seorang Gipsi (Conversations: Notebook of a Gypsy, 1988, poetry in Malay and English) and Hikayat Sri Anggerik (The Chronicles of Sri Anggerik, 2007, various genres written in Malay and a few in English).
Her writings dwell largely on social and humanitarian issues. She has received three Malay Literature Awards from the Malay Language Council of Singapore: for the poem, "Peristiwa" in 1999; for the poem "Dalang: Episod Tiga" in 2001; and for her literary essay, "Nilai Penulis Berdasarkan Karya Bukan Kerjaya" in 2009.
Her writings have been published in various literary journals and magazines in Singapore, Malaysia, Brunei and Iowa, besides the newspapers and radio channel.
Under the pseudonym of Sri Anggerik, Rasiah wrote a fortnightly column for the Malay newspaper, Berita Minggu between 1998 and 2006 and a weekly literary column for the same publication under the pen name Tun Fatimah between 2004 and 2009.
She received commendation and literature awards for her poetry, essays and books since 1983. Rasiah has had her stints as a part-time TV documentary producer (SBC), script writer (Radio Singapura) in the 1980s and editor for Times Publishing/Editions in the 1990s and the early years of the millennium. She is currently a trainer and translator.
Source:
http://www.pustaka.com.sg/Synopsis_files/Penulis_Kami/Rasiah_Halil.html
http://asas50.com/direktori-penulis-melayu-singapura/2011/01/09/rasiah-halil/