09 Jan

Siti Anita Binte Rahmat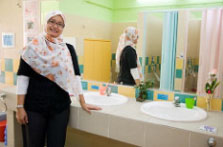 In 2008, Siti Anita was one of three recipients of the MOE-NCSS Special Education (SPED) Awards, which recognises SPED teachers who have shown particular passion and commitment to providing an all-rounded education. Today, Siti Anita is the Head of Department for Pupil Well-Being who oversees the development of the School's Life Skills curriculum. She has led two major innovation projects – the Sparkling Loo and the Internet Cafe. These projects gave pupils the opportunity, respectively, to enhance their independent living skills such as personal grooming and hygiene, and be equipped with hospitality and interpersonal skills in a simulated environment. The Internet Cafe project also won an Innovation Award for its outstanding innovation to promote students' learning.
She started out as a relief teacher in a primary school for three years. She decided to take up the challenge of educating children with special needs because of her passion for teaching young children. She landed the opportunity for a teaching position at Chaoyang School, a school for pupils with mild intellectual disability and autism spectrum disorder, even though she had no prior special education (SPED) experience.
Being a SPED teacher is not without its challenges. To better meet the needs of individual pupils, she had to stay flexible in her approach to cater to their different learning styles. Many of the pupils had a short attention span and required more time to understand certain concepts. She had to be creative to help them learn better by using interesting visual aids, hands-on activities and role-playing. I also had to manage behavioural issues in class, such as aggressiveness and defiance.
One boy has left a particularly deep impression on her. In the mid-1990s, she taught a 12-year-old boy who had mild autism and some behavioural management problems such as wanting a lot of attention.
To manage his behavioural issues, she worked with his mother and his psychologist, and they came up with a token system. Each time he did something positive, he would be given a token. But if he did something negative, he would be ignored.
Before putting the system to work, the psychologist explained to the boy that for every fixed number of tokens that he collected, he could exchange them for a reward. The psychologist then asked him to think about what he wanted.One of the rewards he wanted was to spend 10 minutes with her. She found it really touching, that he felt that spending time with her was something precious. This was, after all, a boy who had sometimes thrown things at her during class. The experience taught her that while her pupils might not be able to adequately express their feelings, they did appreciate her efforts and she was making a difference in their lives.
She didn't know if she saw this line of work as a calling, but two of her siblings were also in teaching. Her father was also a teacher before he ventured into business.
"My pupils' parents tell me I have changed the lives of my pupils but I think it is my pupils who have touched and transformed me. I have learnt to look beyond a person's disabilities to recognise their potential. My pupils have taught me that there is beauty in imperfections and that we just have to be open to seeing it."
Source:
https://schoolbag.sg/story/a-special-passion-for-special-pupils#.VjI1IH4rIgs
http://www.moe.gov.sg/media/press/2008/11/honouring-special-education-te.php
http://www.apsn.org.sg/wp-content/uploads/2011/07/APSN-Newsletter-Mar-2009.pdf
http://www.ncss.gov.sg/documents/rapport_web.pdf